1 Chronicles
These are all of the chapters of the book of 1 Chronicles. Clicking on a chapter will show you the text of that chapter of 1 Chronicles in the Bible (New International Version).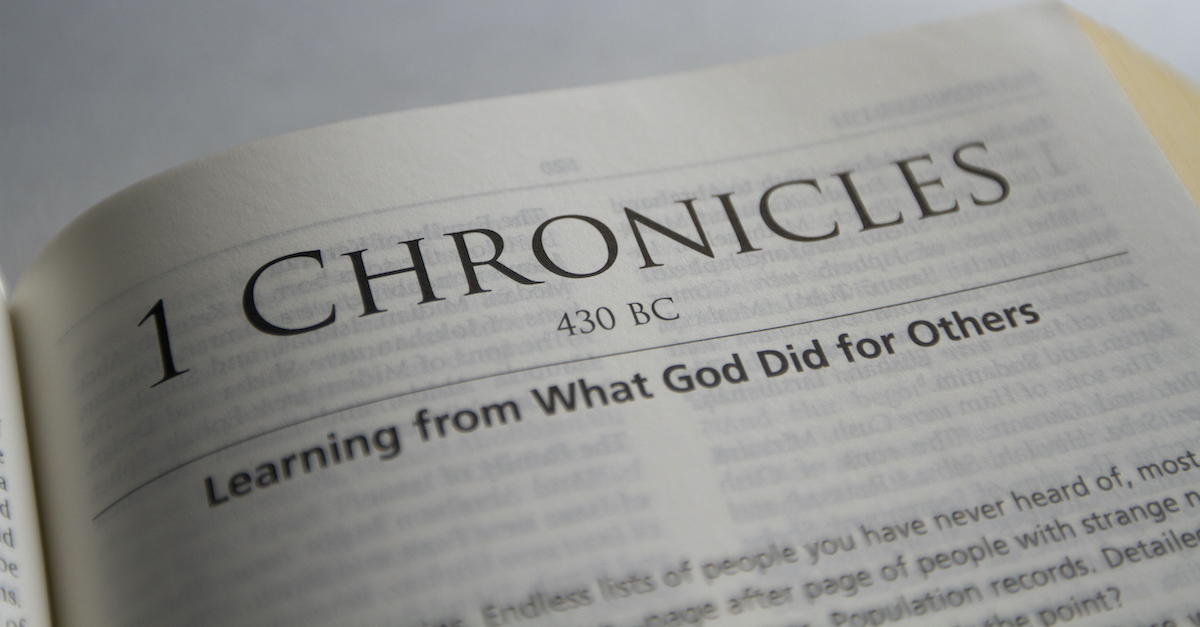 Who Wrote the Book of 1 Chronicles?
"The Chronicler," as scholars have long referred to the author of this book, is anonymous. Jewish tradition speculates that Ezra could have written 1 and 2 Chronicles, which—like Samuel and Kings—originally formed one work. But nothing within the text provides a definitive clue as to the compiler of the material.
Context and Background of 1 Chronicles
The Book of 1 Chronicles is just that – a chronicle of events in the history of God's people and how God's plan for redemption has been revealed through these events.
In the original Jewish order of the Bible, the Book of Chronicles (including 1 and 2 Chronicles) is last book of the Old Testament because it summarizes the entire story of God's work through humanity up until that point in history: The first word of 1 Chronicles is Adam and last chapter of 2 Chronicles leads us to the return from exile, with the Proclamation of Cyrus that the people now return to Jerusalem and rebuild (36:22-23).
The Book of 1 Chronicles can be divided into three sections: Genealogies (chapters 1-9), the Reign of David (10-21) and Preparation for the New Temple (22-29). First Chronicles summarizes the accounts of the Old Testament through the names of those who lived them.
Main Theme and Purpose of 1 Chronicles
The History of a Family
Those familiar with the Gospel of Matthew may recognize that Matthew starts off the New Testament in much the same way that 1 Chronicles starts off this history of God's work in Israel; with a genealogy. Luke's Gospel does something similar: Luke 3:23-38 takes the genealogy in reverse, starting with Jesus and working all the way back to Adam.
But why is such a genealogy important, and why 'Chronicle' this and include it as Scripture? This list of people is important because it takes us on a journey through God's work in humanity, gives us an overview of how God consistently leads his people to a redemptive end, and ultimately points us to Christ.
"The genealogies in 1 Chronicles give attention to each of the tribes of Israel, but clearly focus on two tribes: Judah (1 Chron. 2:3–4:23 [110 verses]) and Levi (1 Chron. 6:1–81). They focus on the tribes of Judah and Levi to identify the royal and priestly lines of Israel, searching for a rightful king and priest for God's people. The genealogies in Matthew (and Luke) find what Chronicles was searching for: Jesus, the true King (Rom. 1:3; 2 Tim. 2:8; Rev. 19:16) and Priest (Heb. 4:14; 5:5–6; 8:1) for God's people."
What Can We Learn from 1 Chronicles Today?
A Past Pointing to Christ
1 Chronicles points us to Christ through the genealogy at the beginning of the book, and also through presenting King David as a forerunner of the Messiah. The Davidic Covenant found in 1 Samuel 7 is found again in 1 Chronicles 7:11-14.
A Reason to Hope
1 and 2 Chronicles give us reason to hope. These words were written to give the people of Israel the story of their past in order to give them hope for their future. The books of 1 and 2 Kings provide accounts of many kings of both Israel in the north and Judah in the south, but 1 and 2 Chronicles focuses us specifically on the kingdom of Judah and the reign of David. This provides us a distinct view of what the Jewish people could expect in anticipation of their Messiah and provides us a background of how God has been working out his redemptive plan all the way from Adam.
Even When We Don't See it, God Is at Work
The people who had returned from exile had hoped that when they returned, the new temple would be built in glorious splendor and the Messiah would appear to reign and restore all things. Yet, that is not what has happened. First and 2 Chronicles give hope to us as it did to them and gives reason to keep hoping. This historical account reveals that God has been at work, is still at work, and will continue working among us. The temple is gone, but the need to worship is not. We may not see his finished plan in a generation, or even many generations, but his plan is indeed unfolding among us.
In reading Chronicles, we see that God has been active and moving among his people, preparing the way for a Messiah who would be both Priest and King.
Our Favorite Verses from 1 Chronicles
1 Chronicles 4:10 - Jabez cried out to the God of Israel, "Oh, that you would bless me and enlarge my territory! Let your hand be with me and keep me from harm so that I will be free from pain." And God granted his request.
1 Chronicles 7:40 - All these were descendants of Asher—heads of families, choice men, brave warriors and outstanding leaders. The number of men ready for battle, as listed in their genealogy, was 26,000.
1 Chronicles 15:16 - David told the leaders of the Levites to appoint their fellow Levites as musicians to make a joyful sound with musical instruments: lyres, harps and cymbals.
1 Chronicles 17:9 - And I will appoint a place for my people Israel and will plant them, that they may dwell in their own place and be disturbed no more. And violent men shall waste them no more, as formerly.
1 Chronicles 29:20 - Then David said to the whole assembly, "Praise the Lord your God." So they all praised the Lord, the God of their fathers; they bowed down, prostrating themselves before the Lord and the king.
Sources:
Insight.org. Book of First Chronicles Overview - Insight for Living Ministries.
Crossway.org. Miles, V. The Gospel in 1-2 Chronicles.
The New Open Bible. (1990). Nashville: T. Nelson, p.453.
Disciple's Study Bible. (1988). Nashville: Holman Bible Publishers, p.467.
Photo credit: ©Sparrowstock
Jason Soroski is a homeschool dad and member of the worship team at matthias lot church in St. Charles, MO. He spends his free time hanging out with his family, exploring new places, and writing about the experiences. Connect on Facebook or at JasonSoroski.net.