1 Thessalonians
These are all of the chapters of the book of 1 Thessalonians. Clicking on a chapter will show you the text of that chapter of 1 Thessalonians in the Bible (New International Version).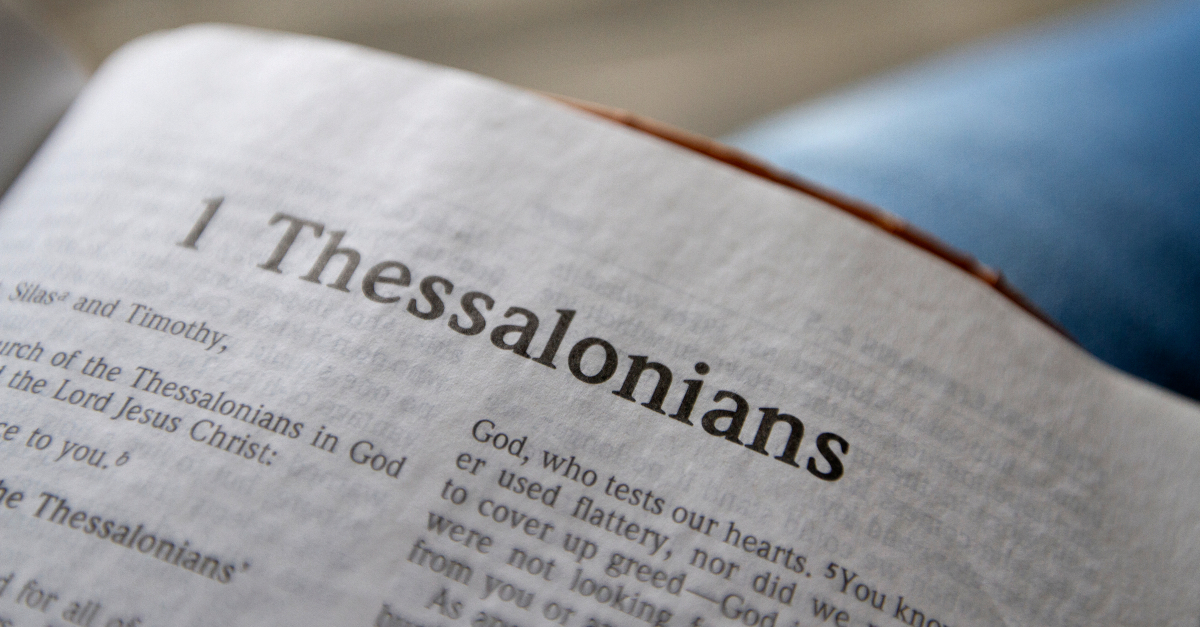 Who Wrote the Book of 1 Thessalonians?
Within this letter, Paul declares he wrote it with Silas and Timothy in verses 1:1 and 2:18. Few biblical scholars disagree with Paul as the author. That the message comes from all three men is reflected in the use of the word we throughout the letter.
Context and Background of 1 Thessalonians
Theologians consider 1 Thessalonians to be one of the first books of the New Testament written. The time frame comes from the context. The three men, in verse one, were only together for a few years, 49-51 A.D., according to Paul's journeys in the book of Acts. There's continuity between Paul's travels to Thessalonica and Corinth in this letter with the account in Acts 18. An archeological inscription found in 1909 at Delphi narrows the year to 51 A.D.
The opening words of the book indicate Paul wrote the book to the Church of the Thessalonians, a prominent seaport and the capital of Macedonia with a population close to 200,000 with a Greek majority, Romans, and a strong Jewish minority. Its location along the Egnatian Way and sheltered harbor on the Aegean Sea made it an important and wealthy city that connected Roma with the East. Rome built a naval station there. Paul ministered there on his second missionary journey (Acts 17:10), but opposition of Jews drove Paul away. Since Silas and Timothy joined Paul in Corinth (Acts 18:5), it is believed that's where they wrote the letter.
Paul shows his continued care to minister to people he converted through this letter. He is concerned about their spiritual condition because he knows they live in a pagan area where some people persecute followers of Christ. He reminds them that he preached the gospel to them and wants to help them grow in faith (chapter two). In chapter one, Paul expresses joy that he received news of their Christian love. He sent Timothy to Thessalonica, for firsthand news, who has now returned to Paul (1 Thessalonians 3:2-6) and inspires Paul to write the letter.
Main Theme and Purpose of 1 Thessalonians
Paul wrote the letter out of deep love and concern for the believers in Thessalonica and his desire to continue to disciple them. He encourages them to grow in faith, strive for holiness and purity, and stand firm against persecution. He shares the belief that knowledge of the promised end times will give them hope to remain steadfast. This purpose is best summed up with Paul's encouraging words in verses 3:12-13. These words also bridge to the hope of the future kingdom when Christ will return (eschatology).
Paul who greatly desires to return to the Thessalonians, writes about the desire and promise of Jesus to return to His people on earth. He portrays Jesus as the Coming One who will continue to fulfill His promises. Paul writes about the future as a message of lasting hope and to assure people that those who died will be reunited with them in the future.
What Can We Learn from 1 Thessalonians Today?
The truths of the words of 1 Thessalonians remain relevant today. We should always strive to grow in our faith, show Christian love to all, and remain hopeful in the promise of Christ's return. We develop a more vibrant faith when we look forward to Christ's return and the union of all believers on earth and in heaven.
The encouragement to live lives of purity and holiness as well as to examine everything are calls for Christians to make wise choices daily, in a modern world where many people promote sexual freedom and many writers twist the original meanings of scripture.
Paul's encouragement to stand firm against persecution reminds us to be alert and fight against laws that restrict religious freedom and to stand firm in our faith.
Paul's commendation to the believers should motivate us to also be examples of Christ to people around us just as Paul and his companions worked at setting good examples for those they discipled. His reminder to examine everything should also inspire us to study scripture carefully.
Paul's parting words to pray continually with gratitude reminds us of the power of prayer and hearts filled with thanksgiving.
Our Favorite Verses from 1 Thessalonians
1 Thessalonians 1:5-7, "Because our gospel came to you not simply with words but also with power, with the Holy Spirit and deep conviction. You know how we lived among you for your sake. You became imitators of us and of the Lord, for you welcomed the message in the midst of severe suffering with the joy given by the Holy Spirit. And so you became a model to all the believers in Macedonia and Achaia."
1 Thessalonians 3:12-13, "May the Lord make your love increase and overflow for each other and for everyone else, just as ours does for you. May he strengthen your hearts so that you will be blameless and holy in the presence of our God and Father when our Lord Jesus comes with all his holy ones."
1 Thessalonians 4:1,3, "As for other matters, brothers and sisters, we instructed you how to live in order to please God, as in fact you are living. Now we ask you and urge you in the Lord Jesus to do this more and more… It is God's will that you should be sanctified: that you should avoid sexual immorality."
1 Thessalonians 4:16-18, "For the Lord himself will come down from heaven, with a loud command, with the voice of the archangel and with the trumpet call of God, and the dead in Christ will rise first. After that, we who are still alive and are left will be caught up together with them in the clouds to meet the Lord in the air. And so we will be with the Lord forever. Therefore encourage one another with these words."
1 Thessalonians 5:21, "But test them all; hold on to what is good."
1 Thessalonians 5:23, "May God himself, the God of peace, sanctify you through and through. May your whole spirit, soul and body be kept blameless at the coming of our Lord Jesus Christ."
1 Thessalonians 5:17-18, "Pray continually, give thanks in all circumstances; for this is God's will for you in Christ Jesus."
Sources
Photo credit: ©Sparrowstock
Karen Whiting is a mom, author, international speaker, writing coach, and former television host who loves sharing ideas to strengthen families. She has written Growing a Mother's Heart: Devotions of Faith, Hope, and Love from Mothers Past, Present, and Future. Check out her new book 52 Weekly Devotions for Family Prayer that includes a different way to pray each week plus stories and activities to explore questions children ask about prayer She loves adventure including camel riding, scuba diving, treetop courses, and white water rafting plus time at home crafting and baking.